production news & Updates
WORLD PREMIERE - MIAMI JEWISH FILM FESTIVAL
January 17, 2019
SOLD OUT CROWD DURING THE PANEL DISCUSSION IMMEDIATELY FOLLOWING THE PREMIERE
My Survivor's world premiere at the Miami Jewish Film Festival was the very first public screening of the film, considered at that juncture to be a polished "fine cut" yet still a work in progress by its producers who viewed the event as a focus group opportunity as well as a celebration. Hundreds of the film's supporters, participants, crew members and other notables such as Professor Deborah Lipstadt were in attendance, as were local television executives considering the film for broadcast. The film is expected to undergo several changes once a production partner is onboard and the producers have completed the internal process of sifting through public feedback, which was extremely positive, as well as their own. While a number of film festivals, Jewish groups and area institutions have already requested the film, it will not be officially released until later his year, after all final edit decisions have been decided and the film is cleared.
THE PRODUCERS WISH TO THANK ALL OF OUR FRIENDS, SUPPORTERS AND COLLEAGUES WHO ATTENDED
OVERSEAS FILMING
POLAND
For Survivors Magda Bader and Peter Tarjan, two interviewees appearing in My Survivor, their recent journey to Poland was a painful reminder of Nazi atrocities. On a far more personal level it also marked the tragic loss of loved ones in the very death camps they were now visiting with friends.
My Survivor Film Project traveled from Miami to Poland to document the Survivors' trip that began in Krakow and finished 6,600 miles later in Jerusalem. The backdrop for the filming was the Greater Miami Jewish Federation's historic Israel 70 Mission to Israel, celebrating the Jewish State's 70th anniversary. Both Magda and Peter were part of the mission, and filmmaker Jerry Levine was able to join them, capturing invaluable footage for the film.
The Greater Miami Jewish Federation, which serves as fiscal sponsor for the non-profit documentary, also provided critical logistical assistance in planning the series of shoots overseas. This whirlwind of international filming began April 8th and culminated on April 23rd, 2018.
Magda, Jerry and Federation Mission participants at the Remah Synagogue Cemetery, established in 1535 in the Kazmierz historical district of Krakow.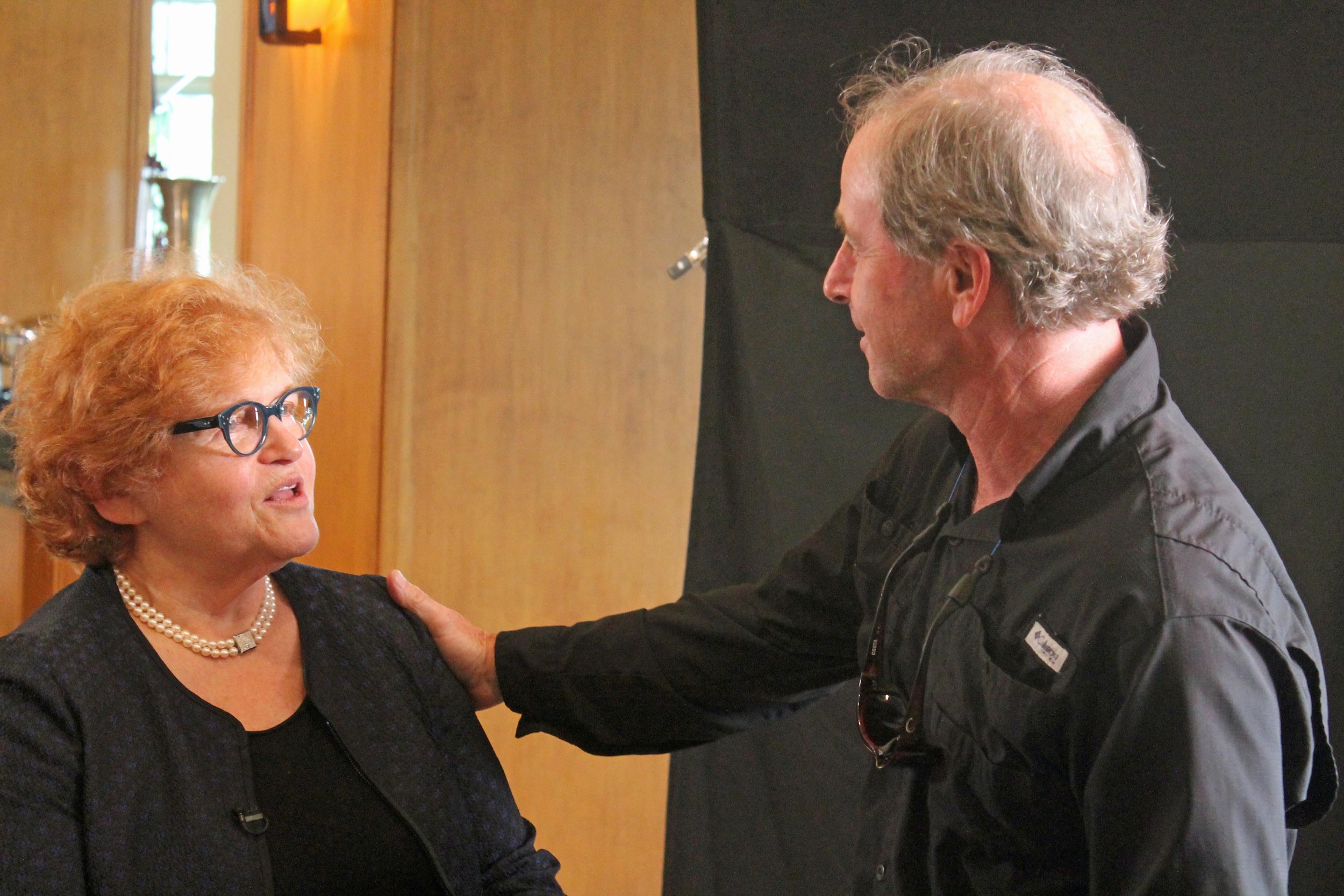 Lipstadt Interviewed for My Survivor Film Project
PROFESSOR DEBORAH E. LIPSTADT, SEEN HERE WITH DIRECTOR OF PHOTOGRAPHY ANDY COPE, DISCUSSES THE UM HOLOCAUST SURVIVORS STUDENT INTERNSHIP PROGRAM ON CAMERA.
Professor Lipstadt is the Dorot Associate Professor of Modern Jewish and Holocaust Studies at Emory University. Her 2005 book, "Denying the Holocaust: My Day in Court with a Holocaust Denier" (Nazi sympathizer David Irving), was made into the Hollywood historical drama "Denial" starring actress Rachel Weisz, in 2016.
Historian Lipstadt: There are facts, there are opinions, and there are lies
The Telly is a premier distinction honoring excellence in video and television. Telly jurors receive more than 12,000 creative entries.
Kaelyn Lynch and
Rachel Steinberger at the 2014
UM Holocaust Internship end-of-year luncheon
and reunited
during filming below.
Donna Shalala founded the UM Holocaust Survivors Student Internship Program while President of UM. She credits Lawrence Eagleburger (below) with making the initiative possible.
LAWRENCE EAGLEBURGER
As Chair of the International Commission on Holocaust Era Insurance Claims (ICHEIC), former U.S. Secretary of State Lawrence Eagleburger (far left) helped initiate the Holocaust Survivors Student Internship Program at UM.
- D O C U M E N T A R Y U P D A T E S -
June - July, 2018 / POST-PRODUCTION EDITING
The logging of interviews and natural sound B-Roll will begin June 19th with Senior Executive Producer Dr. Mindy Hersh and Director Jerry Levine in the edit suite in Bay Harbor Islands. Soundtrack completion is anticipated by September. The time horizon for overall completion is late 2018, including finalization of the academic version of the film and its accompanying classroom guide. Local and national PBS broadcast rollouts are anticipated in 2019.
May 8, 2018 / COMPLETION OF PRIMARY CINEMATOGRAPHY
While several high profile interviews are planned this Summer, the recent Aventura filming of Holocaust Internship participant Kaelyn Lynch of Colorado, reuniting with her Survivor Rachel Steinberger on May 8, marked a key milestone - completion of primary filming for the film.
February 20, 2018 / PRIMARY VIDEOGRAPHY INITIATED
Holocaust Survivor Magda Bader is interviewed in Aventura after her recent reunion with Michelle Abeckjerr, her internship match. Medical student Vibhu Chittajallu is interviewed against a chromakey backdrop assembled at the Greater Miami Jewish Federation - the film's fiscal sponsor.
February 11, 2018:
B-Roll filming takes place at a large Cafe Europa event held at Beth Torah Benny Rok Campus in North Miami Beach. Director Jerry Levine called the experience of seeing so many Survivors gathered together in one place, "emotional and incredible".
January 15, 2018:
POST-PRODUCTION / EDITING of the My Survivor TRAILER is completed and approved by the project's Executive Producers for promotional distribution.